Get expert help with the right skip bin size for your job
If you have been waiting for an easy way to clear out rubbish, call us and we'll make sure you get the right skip bin size for the job you need to do. We have 4 convenient sizes for skip bin hire including 2m³ skip bins, 4m³ skip bins, 6m³ skip bins, and 8m³ skip bins.
Getting rid of your unwanted rubbish or furniture is no longer a problem. We'll deliver a skip bin size appropriate for your intended use. Once you've put everything you need to clear up in your skip bin, give us a call and we'll promptly come out to retrieve your skip bin and dispose of the waste responsibly.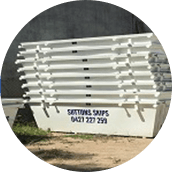 What can go in
You can put in household waste such as white goods and furniture, construction waste like bricks and concrete, dirt, soil, sand, organic waste such as grass, branches, woodchips, and garden excess.
What can't go in
No asbestos, oils, paints, food waste, nappies, car and truck tyres, chemicals (including empty containers), hazardous materials, and dangerous goods. If you're in doubt as to whether you can dispose of an item, please ask our friendly team.
Who our skip bins are for
We have a skip bin size suitable for almost any job. We offer skip bin hire for residential clean-ups, commercial clean-ups, and construction clean-ups.
About our skip bin hire service
Our competitive price for skip bin hire includes delivery anywhere on the Gold Coast of an empty 4m³ skip bin, and collection of your skip bin when you've finished with it. Our truck will carefully place the skip bin in the place you request.
Unlike some skip bins, our bins all have wheelbarrow access, which allows you to wheel your debris or rubbish in easily and close the door once you're done.