Got a big rubbish removal task? We have a big skip bin size to match
We're available to help you with small rubbish removals around your home, rubbish removal for your business, and rubbish removal for the building industry.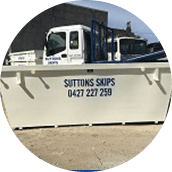 Skip bin hire residential
Our skip bin hire is suitable for a wide range of rubbish removals. We can remove household furniture, old household building materials, garden waste, bricks, tiles, rocks, concrete, plastic, timber, glass, and even white goods.
Skip bin hire commercial
If you are a professional landscaper, brickie, concreter, gardener, or tree lopper, you know you need a reliable, easy, and affordable way to get rid of your on-site rubbish. Our clean skip bins come in 4 sizes, which means we have a skip bin size that's right for you!
Skip bin hire construction
Our skip bin hire service will help you keep your construction site tidy and safe for your workers. We can deliver a skip bin size of 2m³, 4m³, 6m³, 8m³ to fit your site and your removal needs.
Our skip bin hire is suitable for the disposal of furniture, white goods, building materials, concrete, bricks, rocks and stones, soil, dirt, sand, trees, grass, gardening waste, glass, paper, cardboard.
Our skip bins cannot be used for the disposal of nappies, food, gas bottles, liquid waste, wet cement, explosives, flammable items, asbestos, CFC (Compressed Fibrous Cement) sheets, paint, oils, chemicals, and empty chemical containers.
Suttons Skips are a reliable, locally owned, and operated Gold Coast skip bin hire company. We have been serving residential clients, commercial clients, and construction sites throughout the Gold Coast since 2010.
We operate 6-days a week. You can call us for a free quote or a booking during our operating hours of 6:00am to 5:00pm Monday to Friday and 7:00am to 11:30am on a Saturday. If you need a skip bin to remove rubbish from your property, we have a skip bin size to suit.